Covid Simulator
A downloadable game for Windows
PLEASE WEAR A MASK AND GET VACCINATED!

Since early 2020, Covid-19 has caused mayhem the world over. Spreading rapidly, it can cause illness, long term disability, and death. The Covid-19 pandemic has been met with much political turmoil - causing misinformation, violence, and unnecessary risk. Many charts and diagrams exists highlighting the dangers of Covid-19 in the workplace. COVID SIMULATOR hopes to visualize how quickly Covid-19 spreads, becoming a disaster. The game is an open sandbox for you to enjoy!

In all version of Covid Simulator you can:

Sandbox environment to experiment with
Create a procedural generated work spaces which you can adjust
Adjust the number of employees, and their work schedules
Adjust infection rates, mask adoption, and vaccination rates
Manually add/remove masks and vaccinations
Adjust the strength of the Covid variant
Adopt mask mandates, and vaccine mandates
Hire/Fire Employees
Encourage Pro/Anti Vaccine behavior
Give 'alternative medicine' treatments
Speed up or slow down time to view the results
View and save charts as PNG, showing spread over time
In the paid version you can ALSO:

Create custom Covid Strains
Integrate with Twitch to let your viewers be in the game!
Name characters
Create your OWN workplace with the level editor
Have even MORE employees!
Export charts as CSV
Unlimited number of in-game days/months/years you can run the simulator
Earn achievements
NOTE: the free/demo version is almost IDENTICAL to the paid version. Consider buying the paid version if you'd like the extra features listed, or just want to donate to the project!

CONTROLS
The game is controlled by mouse and left click.
You can move the screen with WASD or the ARROW KEYS.
COVID SIMULATOR IS A WORK IN PROGRESS

My personal goal with this game is to convince at least one person to get vaccinated, and/or improve their daily precautions against Covid-19. I have made a free (version of the game that is nearly identical to the paid version in order to make sure as many people can see it as possible. It is my hope that seeing the speed of transmission and the scary results will open someones eyes.
FOR LEVEL EDITOR IN PAID VERSION:
All levels you make are saved in the Resources/Maps folder. You lay down tiles and objects by left click, and delete with right click. You must have doors to leave, and rooms marked in order to save a map. Maps with areas that are "blocked" can cause pathfinding to crash the game!


FOR TWITCH INTEGRATION:
In the game folder under Assets/Resources/ is a text file labeled "TwitchConnect." simply input your information and the game will automatically be connected to your steam channel. Simply delete your information if you'd no longer like that connection.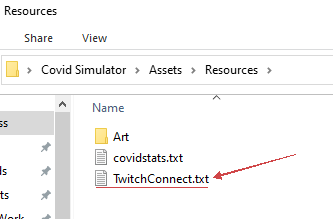 -----DISCLAIMER-----

COVID-19 is a serious disease. The game includes satire of current political climate regarding Covid-19, but hopes to convey a very serious attitude regarding the reality of this deadly disease.

THE PRIMARY CONDITIONS THAT EFFECT REAL WORLD COVID-19 INFECTION/TRANSMISSION/CONDITIONS/RESULTS ARE:

AGE
REGION
INCOME
HEALTH
ACCESS TO HEALTH CARE
The game bases the infections/transmissions/conditions/results of Covid-19 on the US CDC statistics which are based on age/gender/health/ethnicity. This game does not insinuate any ethnic disposition towards Covid-19, however it is personally important to me to demonstrate the extreme dangers that minorities are currently experiencing with the pandemic. It is impossible for a simple game to fully simulate the intricacies of every day human life.

The random ages, genders, health, and ethnicity is based on percentages reported in the US Census data for people in the work place. These are nation wide averages, and does not reflect any particular area.
I am NOT a statistician or a virologist. I am a game developer. This simulator/visualization appears to have similar outcomes to real world results - however it will likely never be real world accurate. It is only a game, meant to demonstrate the dangers of unchecked Covid-19 spread. If you ARE a statistician or a virologist, please contact me - I would LOVE to expand the accuracy of this game.

Purchase
In order to download this game you must purchase it at or above the minimum price of $4.99 USD. You will get access to the following files:
Covid Simulator (version 22)
99 MB
Download demo
Comments
Log in with itch.io to leave a comment.
I want a soundtrack download DLC for either here or steam.
Amazing game! Will there also be a console version for PlayStation and Xbox?
How do I set parameters for anti-vaxxers? I want to watch really bad stuff happen
well I wouldn't wish ill will on anyone, but you can add pro or anti vax posters in the walls to sway them one way or another!
Congrats on the paid release! Could it come with a Steam key for itch :)
I will definitely look into steam<->twitch key integration stuff!

I meant providing a Steam key to people who purchased the game on Itch so that we may have access to achievements, but it's awesome that you added that too!
coldrice, do you do custom games? your chart and csv skill is impressive.